The American Style
Colonial Revival and the Modern Metropolis
The American Style:Colonial Revival and the Modern Metropolis brings together extraordinary furniture, decorative objects, and photographs to survey, in New York City and beyond, the Colonial Revival movement in the realms of architecture and design. The exhibition covers the fertile period from the 1890s to the present, focusing on the years from 1900 to the 1930s, when New York City, through department stores, museums, and more, was the center for the style's promotion nationwide.
A beautifully illustrated companion book, written by the co-curators, is co-published by the Museum and the Monacelli Press.
The exhibition is co-sponsored by the Institute for Classical Architecture & Classical America.
For More Information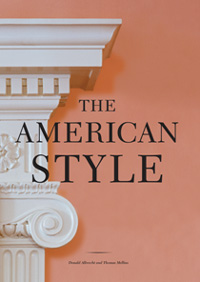 Opening Reception
Monday, June 13th, 2011
6:00–8:00 p.m.
Schedule
June 14th – October 30th, 2011
Location
Museum of the City of New York
1220 Fifth Avenue at 103rd Street
New York City