Winter 2008 Collection
Maria Beaulieu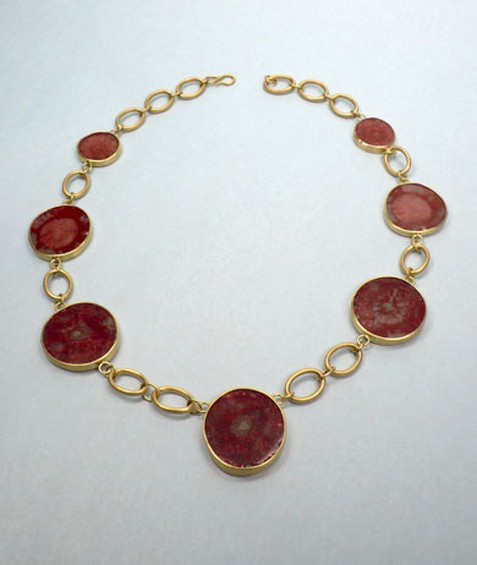 E.R. Butler & Co. unveils new jewelry by Maria Beaulieu with an opening reception, December 2, 6-8 p.m.
* * *
E.R. Butler & Co.'s 30-foot long glass storefront and showroom space will display Beaulieu's rings, earrings, bracelets and necklaces which feature not only precious and semi-precious jewels like Zambian emeralds, opalescent moonstones, Brazilian amethysts and icy aquamarines, but also more exotic minerals, such as 300 million year-old fossilized coral and slices of Argentinian agate.
Beaulieu, who worked for Ted Muehling for 9 years before starting her own line, creates simple and elegant jewelry that usually features faceted gems. It is the story behind each stone, as well as the intrinsic beauty of them, that fascinates her. "It's all about the stone, not about me, the jeweler. I use just enough gold to highlight each piece."
123 karats of glacial blue aquamarine, set within a frame of 18kt gold, add up to one pair of drop-dead gorgeous earrings. Naturally occurring marks in a golden rutilated quartz pendant resemble a lock of hair suspended in the stone. The rounded rectangular links of her signature 18kt handmade gold chains offset the streaks of pyrite (fool's gold) running through a large oval turquoise cabochon necklace. Her settings are open in the back so that both sides of the stone can be appreciated.
"I want my work to complement the person wearing it. I like the idea of creating a piece of jewelry and letting it out into the world to become part of another's life. Ultimately, I'd like to share the beauty of the gems I discover with other people."
On Display
December 2nd – 23rd, 2008
Tuesday through Sunday, 12:00 to 7:00 p.m.
Opening Reception
Tuesday, December 2nd, 6 to 8 p.m.
E.R. Butler & Co.
55 Prince Street
(Between Lafayette & Mulberry)
(212) 925-3565
More Information